DNA presentations, research tutorials, study group and discussion circle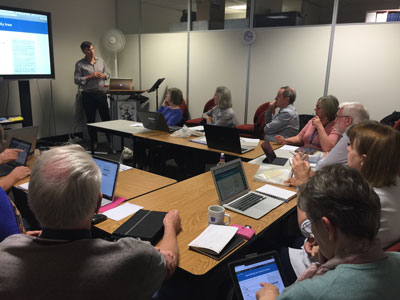 Presentations on various DNA topics will continue to be scheduled monthly, with sessions repeated based on Members' needs. At present we have fi ve presentations on off er in the form of Modules. It is strongly recommended that Modules 1-4 be taken in order. Presentation sessions are 90 minutes.
Booking required for tutorial and study group. Check our event page to book or contact the GSV. 
Module 1: DNA Testing – Should I do it?

This is an introductory presentation for people thinking about doing a DNA test. It considers the various reasons for testing DNA and will explain the different types of tests and testing companies, and what the results will tell you. It will explain what is involved in providing DNA samples, who should take the tests and privacy issues. It will also explain how to develop a family tree to use with your DNA results. This presentation will help you decide whether you want to do DNA testing and the most appropriate test to take.
Module 2: Introduction to using your- Ancestry DNA results

This presentation is for beginners in DNA who are starting to use their Ancestry DNA results. It is intended for people who have their Ancestry DNA results or who have tested and are waiting for their results. It will explain some DNA basics and the various results you receive. The focus is understanding your Ancestry DNA results so you can use your DNA matches and to extend your family history. After attending this presentation, you will understand your Ancestry DNA results and how to use them in your family history research.
Module 3: Strategies for analysing - autosomal DNA results

For intermediate DNA users who want to go further with understanding and using their autosomal DNA results to progress their family history research. The presentation will cover downloading DNA data and uploading it to other sites such as Gedmatch. It will introduce some online tools that can help you better understand your autosomal DNA results. It will also explain a number of strategies such as how to identify paternal and maternal lines, how to analyse DNA segments and matches, and how to use methods such as triangulation and DNA mapping to progress your family history. This presentation will help you explore your autosomal DNA more fully by using other sites and more advanced techniques to progress your family history. 
Module 4: Introduction to DNA Painter

DNA Painter is an online tool that enables you to upload shared segment data from other sites so that you can create a profi le of the DNA you have inherited. It also provides various ways you can use these profi les to break through brick walls in your family history and identify unknown matches. The session will explain how to create a profi le and upload data from other sites. It will also provide an overview of the various ways to use DNA Painter to solve some of your DNA family history mysteries. The session is intended for people who have done an autosomal DNA test and have at least a basic understanding of DNA segment information.
Module 5: Introduction to Y DNA

The presentation is for people interested in tracing the male line of their family tree using the Y DNA test. It will focus on the Family Tree Y DNA test. It is an introductory session and will cover who can take the test, the diff erent levels of testing, and how Y DNA tests can be used in your family history. It will briefl y explain haplogroups and ancient origins of your ancestors. It will also provide an overview of the Y DNA test results and how to interpret them. Y DNA is particularly important in tracing the paternal line and surnames, and can be used to investigate brick walls and mysteries related to male lineage. The Y DNA test also enables you to join surname groups and haplotype groups which can provide additional information about your ancestry.
DNA Research Tutorials

DNA Research Tutorials are small group sessions that focus on a specifi c topic related to genetic genealogy. The tutorials will explore more fully some of the topics from the monthly GSV DNA presentations. Tutorials will be held monthly. The aim is to help people to use DNA to advance their family history research. Each tutorial will have a facilitator who will do the presentation and lead the tutorial but sessions are intended to be both practical and participatory. Participants will be expected to bring relevant materials such as their family tree, DNA data, and if possible their own laptop, and be willing to contribute their questions and ideas on the topic. Research tutorials are 120 minutes.
DNA Genetic Genealogy Study Group

Convener: Ruthie Wirtz. This new group has been started for intermediate to advanced genetic genealogy users. It is a self help group for people who are familiar with DNA terminology and available software tools, and who would like to work in a small study group where participants meet to continue to hone their skills in genetic genealogy. Participants will have completed the GSV DNA for beginners classes or have a similar knowledge base. The study group will meet on the first Tuesday of the month, 10.00am to 12.00pm. Maximum attendees of 14 per meeting.
DNA Discussion Circle

The DNA Discussion Circle is for GSV members who would like to find out how DNA may assist them in furthering their family history. DNA can be used to confirm or establish links in your family tree as well as identifying your particular genetic origins.